How to Sell a Car
5 years ago
Here's some tips to sell your vehicle quicker and get the maximum price.
There's a lot of competition for vehicle sellers on sites like Trade Me, particularly if you have a common vehicle. Put yourself in the buyer's shoes for a moment. If you are looking for a 2005 Toyota Corolla and there's 50 to choose from you are unlikely to pay a premium, unless of course one of these sellers adopts our tips!
1. Get a Vehicle Information Report
The Vehicle Information Report (VIR) will show potential buyers that your vehicle is not reported stolen, doesn't have money owing or a wound odometer.
We recommend including the unique URL for your VIR within your listing details so potential buyers can view it.
2. Get a Pre-Purchase Inspection
For only $110 you can get a Mechanical Pre-Purchase Inspection from your local VTNZ.
We recommend stating that you have had an inspection within your listing details.
3. Get a new WOF
A new WOF will provide further reassurance. You might be able to get it done at the same time as your Pre-Purchase Inspection!
4. First impressions matter
Make the car look it's absolute best
Trade Me has produced this excellent guide >
5. Spend time creating an exceptional listing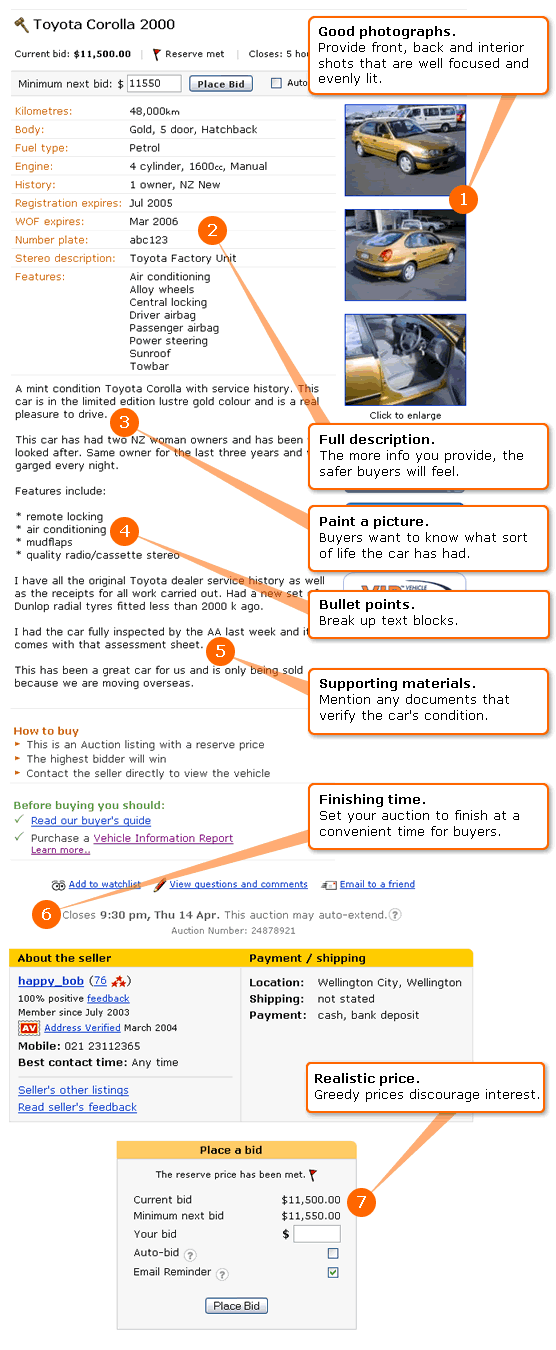 Image courtesy of Trade Me Motors
Most sellers will argue that tips 1 & 2 are the responsibility of the buyer. However, in a competitive market, where buyers are time-poor, a small investment could yield great returns!